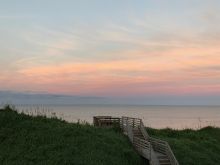 With over 100 miles of coastline, visiting the beaches of the Outer Banks can be fun and exciting….and also a bit overwhelming! Each beach and town has it's own personality and flare, so we have complied a list of some our of favorites! The Roanoke is situated almost perfectly in the middle of the Outer Banks, making a great launching pad to explore all the different beaches our area has to offer! 
Nags Head - Classic Outer Banks! With 12 miles of extra wide beaches to explore, the pristine shoreline of Nags Head is quintessential OBX! Glistening water and rolling dunes with sea oats dancing in the wind provide a perfect back drop for walks on the beach, sand castle building, and dolphin watching! PRO TIP: Park at the Conch Street access and walk south on the beach to see the "Unpainted Aristocracy". Part of Cottage Row between MP 12 and 13.5, these original Nags Head homes date 100+ years in age and are still (mostly) in their original states! 
Kill Devil Hills - Family Friendly Fun in the Sun! Bustling with kids and families, the beaches of Kill Devil Hills are always a flurry of activity in the summer! With the most public access points on the beach, and a lower dune line than Nags Head, the KDH beaches are a popular choice among vacationers - especially those with kids. Surfing, volleyball, boogie and skim boarding are all popular among beach goers. PRO TIP: Park at the Ocean Bay Boulevard access. It has showers, bathrooms and right across Beach Road is the Stop and Shop. Walk over in the afternoon and grab a Boar's Head sandwich for quick and tasty lunch! 
Hatteras Island - Wild and Unspoiled! With soft sand and Carolina blue water, the beaches of Hatteras Island are tranquil and serene. Even in the height of the summer, you can enjoy a stretch of beach all to yourself. Popular with fisherman and water sports enthusiasts, as well as beach goers looking for a quieter atmosphere, Hatteras Island is worth the drive! PRO TIP: Get an Off Road Vehicle (ORV) permit and drive on the beach! Families, beach bums and fisherman alike enjoy riding on the miles of wide open Hatteras shoreline. Check the Cape Hatteras National Seashore website for beach availability (some sections close from time to time to protect wildlife), and obtain an ORV permit at the Coquina Beach and Cape Hatteras Lighthouse Visitors Centers. Just remember to let some air out of your tires!
Coquina Beach - Family Friendly Natural Beauty! The Coquina Beach Access in South Nags Head is the perfect blend of Hatteras Island and Nags Head beaches. The only designated beach area within the Cape Hatteras National Seashore, there is a large parking area with a boardwalk and handicap access to the beach, as well as a bathhouse. With high, wild dunes, and wide, sun drenched shores, Coquina Beach is perfect for families looking for some fun in the sun, or those looking for a lazy beach day. PRO TIP: Obtain a free beach bonfire permit at the Visitor's Center or NPS.gov website and roast hot dogs and marshmallows! 
Carova Beach - Get Away from it All! The Northern most beach on the Outer Banks, Carova is accessible only by 4x4 drive - there are no paved roads, so this is essential! Enjoy a day on some of the most pristine beaches on the East Coast. Carova is also home to the Banker Ponies, or Wild Spanish Mustangs, who have been living on this deserted stretch of sand for over 400 years. PRO TIP: Book a trip with Wild Horse Adventure Tours to get a closer look at the Banker Ponies, and also explore the Carova Outback, with wild fox, deer, boar and more!