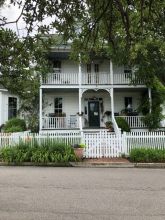 When people call the inn looking for information, 2 questions are asked more than any others.
1 - How do you pronounce Manteo? Is it Man-tay-oh? Man-tee-oh? MAN-teo? I am unsure what is actually correct, but visiting here my whole life and now living here among the locals and natives, it is Manny-o.
Now that we have cleared that up, the next question requires a bit more explanation:
2 - Where is Manteo in relation to the beach, and why should we stay there?
Manteo is located on Roanoke Island which sits between the barrier islands more well known as the Outer Banks, and North Carolina's mainland. Roanoke Island is adjacent to Nags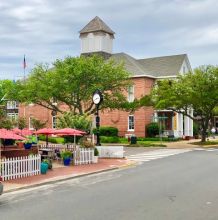 Head, and sits almost directly in the middle of the over 100 miles of Outer Banks coastline, surrounded by the Albemarle, Roanoke and Croatan Sounds. Staying in Manteo offers a different vibe than our other beach towns. For starters, Manteo is an actual small town. Think white picket fences, wide porches, and magnolia and crepe myrtle treelined streets. We have a walkable downtown sitting on a gorgeous waterfront filled with boutique shops, art galleries, dining, and a historic movie theater. This is all in additional to the laundry list of other attractions you have likely already heard of (The Lost Colony, Elizabethan Gardens, Fort Raleigh, North Carolina Aquarium, Festival Park - to name a few). Our location in the middle of the Outer Banks makes us a great launching pad to explore our entire area. We regularly have guests drive North to Corolla one day to do a guided horse tour, and then South to Ocracoke Island the next.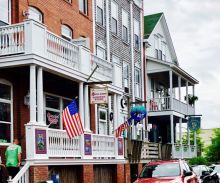 Coming to Manteo really does feel like you have stepped back into a simpler time when life moved at a slower pace. Although we do have a couple "big name" chain stores here (CVS, Dollar General), Manteo is mostly mom and pop stores run by locals who live here and care about the community. You won't find a Holiday Inn, Wings or Starbucks, but you will find The Roanoke, StockAide General Store and Island Perk. It is hard to believe this quiet, coastal gem is just a 5 minute drive to Nags Head and it's world famous beaches.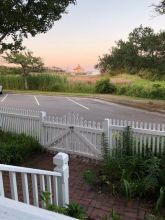 Staying in Manteo means everything you need right here. If you can't walk there, you can certainly grab a bike and take a quick ride there. The hustle and bustle of the more populated beaches is left behind as you drive over the causeway and head to your coastal reprieve. Our sweet, water town is the perfect home base for you Outer Banks vacation. Come stay with us and see what all the fuss is about!
Need a second opinion? See what Southern Living had to say about Manteo!
https://www.southernliving.com/travel/north-carolina/manteo-north-carolina