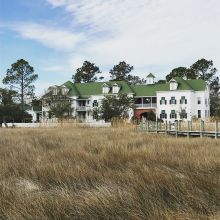 Hello and welcome to our revamped website and blog! We are so excited and happy to have you here. If you follow us on Facebook, you might already know that my name is Lauren and a couple months ago my husband Jason and I purchased The Inn and relocated our family to Manteo, NC. This blog will be a space for you to see what is happening in town and around the inn, and also to keep with up with us on our new adventure of running a business with 2 toddlers and 2 dogs in tow! Here is a little more about our family…
Jason and I are both products of Fairfax County in Northern Virginia. Although from the same area (and attending rival High Schools), we did not meet until college at West Virginia University (Lets Go Mountaineers!). We married a few years after graduating and settled out in Loudoun County. Our first child, Jason II (JB) was born in 2014, and our hearts further expanded with the addition of his sister Caroline, born in 2016. Our family also includes our four-legged babies - Porter a black lab, and Huckleberry (Huck) a Boston terrier. When we aren't running around the inn or chasing our kids out in the yard, Lauren can be found reading somewhere quiet or experimenting in the kitchen and Jason is likely cheering on a DC sports team or getting out on the water any way he can.
We are so excited to be open for our first season and have already enjoyed welcoming some new guests (who lucked out with some FANTASTIC February weather!). We cannot wait to see many more of you in the months to come. Even though the inn has changed owners, you will quickly realize not much else has changed. The brick arch welcomes you "home" and our warm reception room is still fully stocked with snacks and treats and more books that any one person could possibly read! Our rooms are still cozy and inviting with an eclectic mix of art, antiques and comfortable bedding. We hope you will follow along with us and look forward to welcoming you into our home soon!
Lauren and Jason