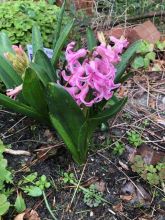 Spring and Easter are just around the corner and that means it is time for SPRING BREAK! Those with kids out of school looking to take a family getaway, or if you just want to take a Spring escape to our salty shores, the Outer Banks offers an unbelievable blend of fun and education! Obviously our area is known for having some of the best beaches on the East Coast, but we are also home to some amazing history.
Lighthouses galore
Our area is home to several lighthouses - one of which we are lucky enough to see every single day from The Inn! The Roanoke Marshes Lighthouse sits in calm, idyllic waters of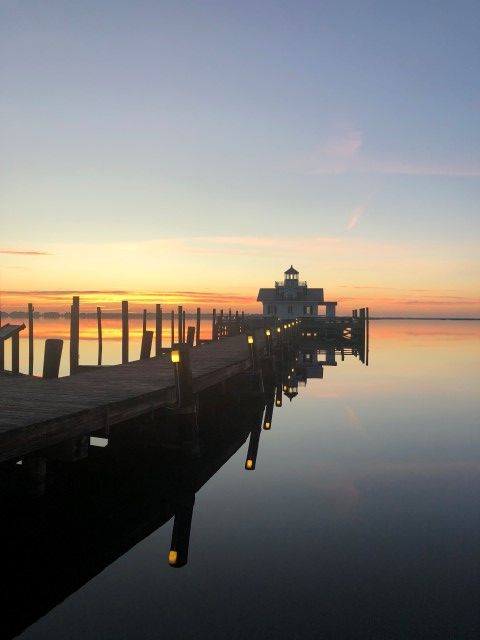 Shallowbag Bay, right in front of The Roanoke. Drive north to Corolla and climb the Currituck Beach Lighthouse, or take a quick drive south to the Bodie Island Lighthouse. Continue trekking south through the Cape Hatteras National Seashore to explore the history and splendor of The Cape Hatteras Lighthouse. If you are feeling extra adventurous, take the ferry from Hatteras over to Ocracoke Island and visit the Ocracoke Lighthouse. 
History and Heritage
A quick walk or bike ride from The Roanoke will take you to Roanoke Island Festival Park. Spend the day immersed in the culture and history of our area. Explore the Adventure Museum and discover over 400 years of Outer Banks history! Climb aboard the prized Elizabeth II and help costumed sailors set the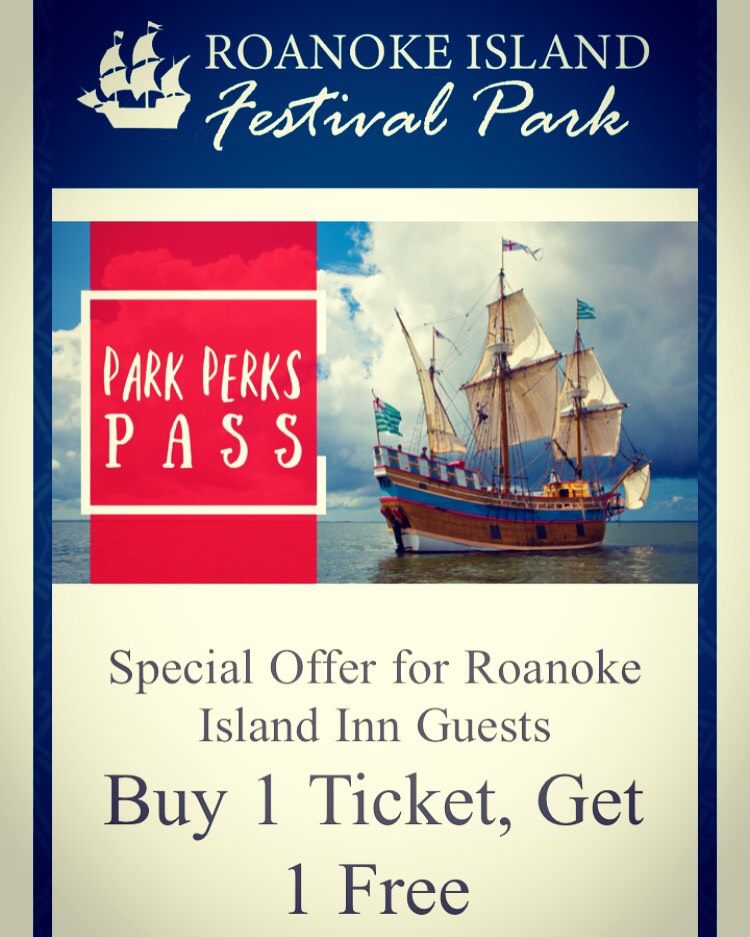 sails or ship's anchor. Take a step back in time and wonder through the American Indian Town or Settlement Site. At the American Indian Town, there are planting and harvest areas, as well as mat and basket weaving and boat building. The Settlement Site shows visitors what daily life was like for the early soldiers and settlers who crossed the Atlantic with dreams of building a permanent colony for England here on Roanoke Island. Show your Roanoke Island Inn key or reservation confirmation and buy one ticket to Festival Park, get a second ticket FREE!
Our North End
The north End of Roanoke Island houses several other attractions rooted in history and fun. The Aquarium on Roanoke Island offers visitors a chance to get up close and personal with all kinds of land and sea creatures. It is also home to the STAR Center where you can learn about sea turtles and the efforts made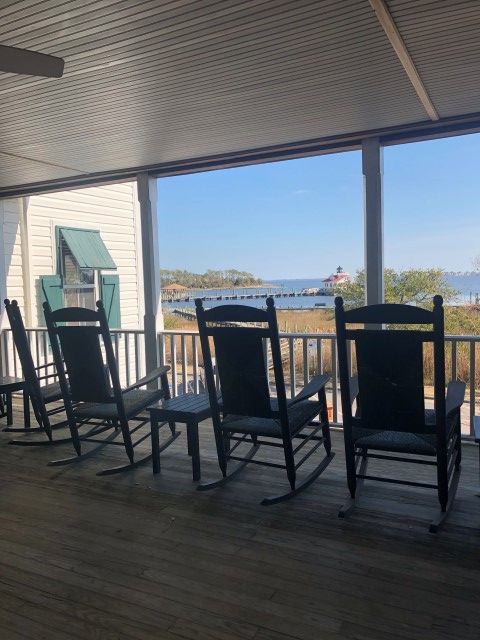 here to rescue, rehab and release those that wash up on our North Carolina shores. Fort Raleigh is home to the National Historic Site, The Elizabethan Gardens and The Lost Colony Play. New to the garden this year is the children's garden, which will open on March 29th. Also in April, the Elizabethan Gardens hosts the Butterfly Festival and Easter Eggstravaganza! The working Island Farm, opening April 2nd is home to 19th Century toys and games, ox drawn carriage rides, and old fashioned hearth cooking. April 27th is Sheep Shearing Day at the farm! See sheep being shorn, help wash their fleece, and watch as its spun into yarn and woven into cloth!
First in Flight!
In Kill Devil Hills, explore the newly renovated and remodeled Wright Brother's National Memorial, which celebrates the birthplace of modern aviation! This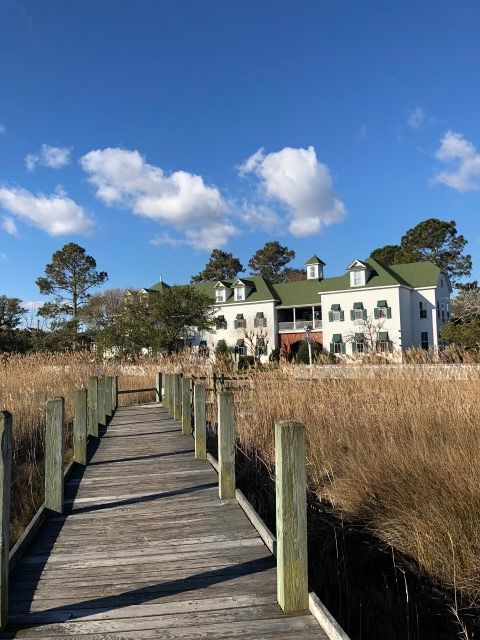 historic site is dedicated to Wilbur and Orville Wright, at the very place where they successfully completed their first airplane flight on December 17th, 1903. Walk the flight line, wonder around the reconstructed camp buildings, climb the hill to the commemorative monument and explore the exhibits in the newly opened Wright Brothers Visitors Center. 
More Adventure!
For those seeking even more Outer Banks adventure, take a drive inland to the Alligator River Wildlife Refuge. Spend the day searching for otter, alligators and even black bear! Looking to get some serious air time? Head over to Jockey's Ridge for Dune Hang Gliding with Kitty Hawk Kites! Those wanting a more "off the grid" experience can head north to the end of Corolla where the black top ends. Book a jeep tour with Wild Horse Adventures to explore the wild and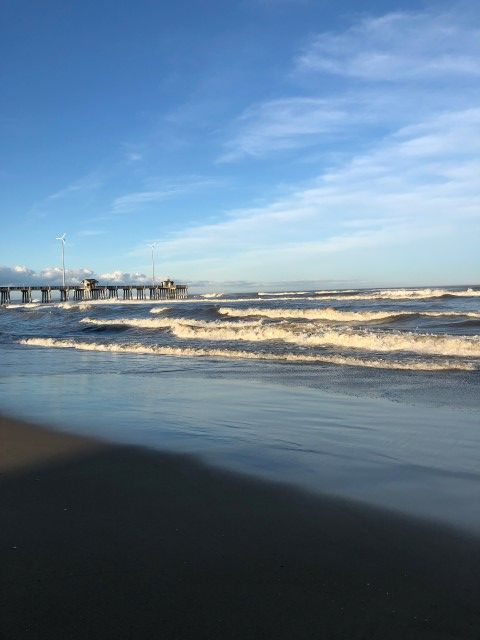 untamed "Carova Outback" and see our famed Spanish mustangs (also known as "banker ponies") as well fox, deer, boar, birds and more! 
With so much to do and see, the Outer Banks is the perfect spot for Spring Break family fun! Spend a few days disconnecting with the "real world" and reconnecting with each other while you discover the history and excitement of The Outer Banks. Of course, you could also choose to spend your days hanging out on the beach looking for shells or sea glass, or fishing off one of our many piers. The Spring Break possibilities are as endless as our sandy shores! You can call us at The Inn (252) 473-5511 or visit our website to book your Spring Break stay! It is also a perfect time to take advantage of our Stay 3, Get The Fourth FREE special running April-May 15th, or our March Madness sale - stay four nights in March for $400!