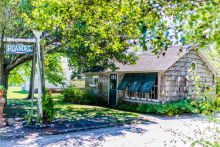 We, at THE ROANOKE, remain extra vigilant in regards to the safety and protection of our guests and our staff.
We follow every guideline put out by the CDC and stay connected to the most recent news and developments. We also regularly receive updates from the Dare County Department of Health and Human Services. As of March 12th, no individuals have tested positive for COVID-19 in Dare County.
Rest assured we are sanitizing and upholding the highest standards of cleanliness; keeping our little piece of heaven as sterile as can be. We are continuing with the standard Lysol and Clorox products we've always used, as well as providing Purell wipes in guest rooms and our common area. It is also important to note that all of our rooms have private entrances, bathrooms, as well as personal heating and cooling units so there is no shared HVAC system circulating air throughout the rooms.
Please call with concerns or questions. We want to be here as a safe haven and will always be a place of rest and relaxation during this these difficult and uncertain times. Come take some deep cleansing breaths of fresh, salty air and let the waves gently wash your cares away.
Our guests mean the world to us and we deeply appreciate your support of our small business during this difficult time. In our commitment to being compassionate and flexible we are suspending all cancellation fees until further notice.
Lauren, Jason and THE ROANOKE staff